Let's straight jump in to the article and know Easy way to Fix Something gone wrong error while adding GoDaddy email forwarding in 60 seconds. Email Forwarding is the way to forward emails from one email address to another email address. In short, if you have an email address like example@domain.com and you would like to forward the emails which you have received within example@domain.com to any another email address then Email forwarding is the best way to achieve it. We have seen a lot a requests and article regarding godaddy email forwarding not working and also "godaddy forward email to gmail" and today we will learn about how to enable email forwarding godaddy office 365.
GoDaddy is one of the leading and best Domain service provider to register domains and to host websites and email accounts at one place after Hostinger, WIX, Namecheap, HostGator and GoDaddy's website offers domains, hosting, and website-building tools. Even the domain which is used in this website is also hosted by GoDaddy.

Problem
If you want to setup external email forwarding in your domain based email address on GoDaddy and getting errors like " Something's gone Wrong. Please try again. If you continue to get this message, contact support" or getting "An unexpected error occurred" while adding or during email address forwarding setup then you don't have to worry about it anymore. We are here to solve this permanent problem within 60 seconds as promised in this article's title.
Solution
It is actually really easy to fix this issue within seconds. We have checked with GoDaddy's reputed Email experts and found this alternative solution. Basically, this solution is available on GoDaddy's help article but customers and users are still finding it a little bit complicated but no problem. We got it covered for you with screenshots for better understanding and smooth experience.

You can easily fix something gone wrong error by switching on the forwarding rules within Microsoft defender using these steps:-

For flawless experience, we would highly recommend you to open incognito tabof your browser to perform these steps otherwise it's fine as well with the normal tab of your browser.
Step1. Login with your office 365 email address in Microsoft defender using this link https://security.microsoft.com/antispam from your end.

Step2. Double click on "Anti-spam Outbound Policy" from your end.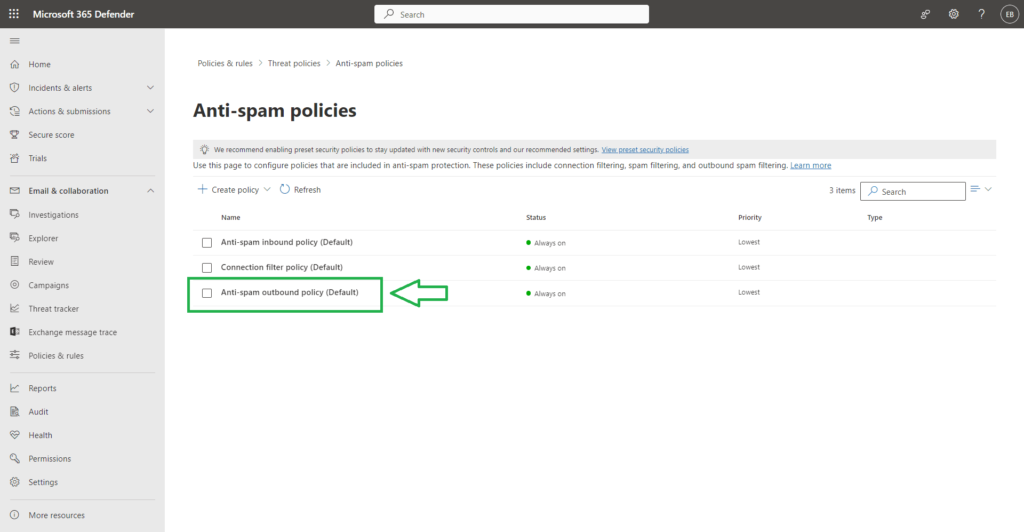 Step3. Anti-spam outbound policy page will appear automatically on the right side of your screen. Click on "Edit Protection settings".

Final Step

Step4. Finally set the forwarding rules to "ON" from your end.



You can now go back to your GoDaddy email dashboard and can refresh your email forwarding section where you were getting "something went wrong" error from your end. You will be able to see that your external email forwarding for the domain name has got automatically enabled and now you can setup as many email forwardings as you want without any error and issues. Cheers!
Results of these steps are in the followings:-
Before following these steps
After following these steps
You can now create email forwarding and can forward your email account emails to any third party email address without any issues and if you have any queries related to this article then you can contact us at our email address anytime ( info@thegeekytech.com) anytime and we would love to assist you with the steps from our side. Our next help article along with screenshots would be "How to setup multiple email forwardings using email rules in office 365 email address" and mostly would be related to tech related problems and upcoming latest game releases of pc, playstation,xbox etc.
If you have a query or question related to this article
Easy way to Fix Something gone wrong error while adding GoDaddy email forwarding in 60 seconds
then kindly click on the button below to submit your query and we would love to assist you with the query within few hours.
Contact for query